Mike Tyson has declared that his namesake Tyson Fury is the best world heavyweight champion since himself.
The American icon, a former WBC, WBA and IBF title-holder, has launched a defence of the current world champion who inherited his name.
Fury, who was declared RING Magazine's Fighter of the Year on Monday, was given the name Tyson by his father to honour the Brooklyn legend, who was the world heavyweight champion on the day of the current incumbent's birth.
"I'm just happy he was the champ," Tyson said. "You can say what you want about Tyson Fury, make fun of him, but there's one guy in the US named Michael Gerard Tyson who's so proud he has my name.
"We're all laughing at him, laughing about him, but I'm on an ego trip. I'm sky high. The heavyweight champion of the world got my name.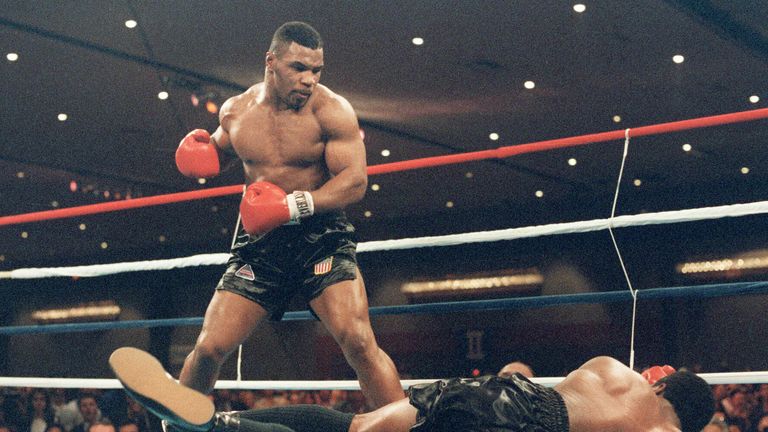 Mike Tyson was a fearsome knockout artist who remains the youngest ever undisputed heavyweight champion
"He is the best heavyweight champion of the world since myself. He is the man, I don't care what anybody says.
"I know this is going to sound ignorant, he can say what he wants to say. You know who are going to look up to him? The people who never thought they had a chance in their life."
Fury, who ended Wladimir Klitschko's 11-year run on top of the heavyweight division last month and awaits a rematch this year, was rewarded by the prestigious honour from RING Magazine.
Responding via Twitter, Fury addressed Tyson before turning his attention towards his latest accolade.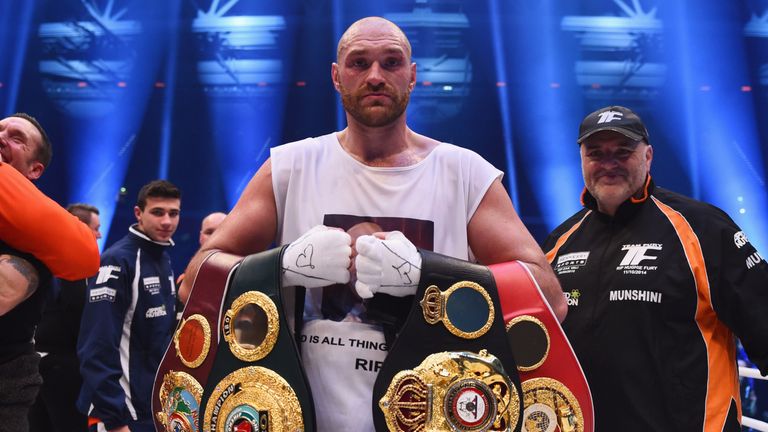 Tyson Fury won WBA Super, WBO and IBF belts in Dusseldorf although the latter has since been stripped
"Big shout my man @MikeTyson," he tweeted. "Proud to carry your name."
He continue: "I can't believe I've just won RING Magazine Fighter of the Year! I'm so flattered.
"Beat the best in the world to take this crown."